Two big things happened this weekend; I'll start with the Tamasha on Saturday.
Bega Kwa Bega Art Group sponsored a community Tamasha, Swahili for festival.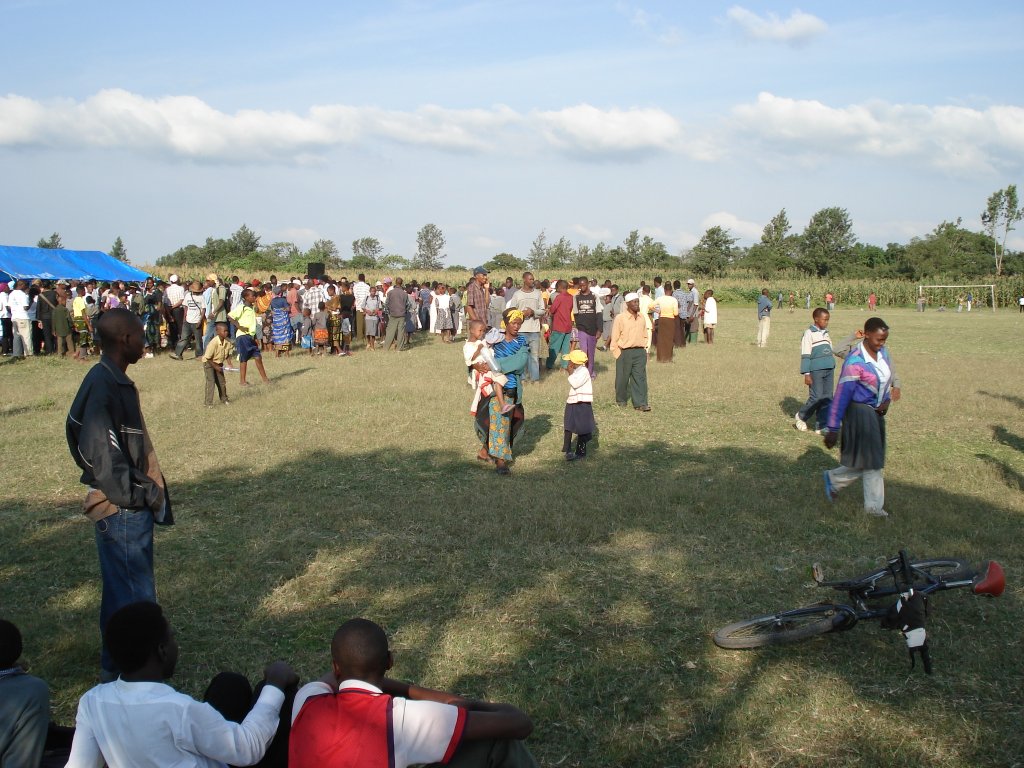 The events started maybe by 10 AM and continued til late afternoon. A ton of people came out for it. There were a lot of activities, and a whoooole lot of soccer. Some of the notable events were a dough nut eating race, where the dough nut was hanging from a string and kids had to jump to bite it.. i don't know how to explain other than that really, there was a chicken chase, and a race where women carried a bottle of water on their head: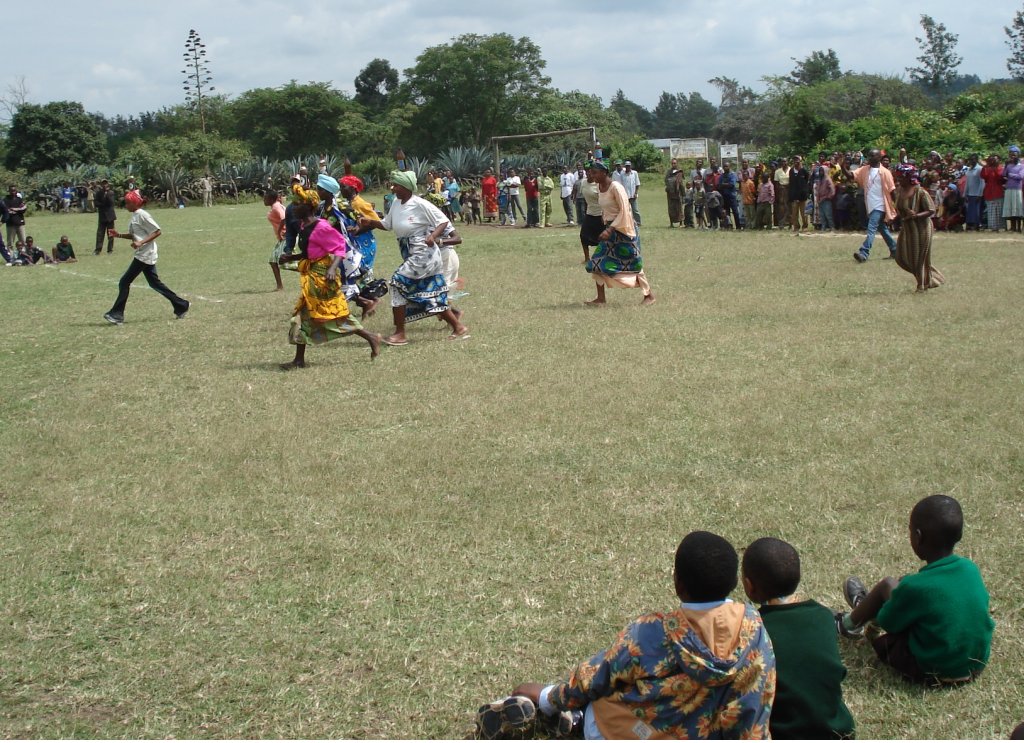 These women were absolutely running! No idea how they could do it… Also, everyone from Monduli working with Maasai Women's Development came back for the weekend, it was real nice to catch back up. A lot happens in a week when everything is new!
So the second big deal: I finally got to enjoy a little night life here. I met Amanda, a miss Arusha, and her friend Diney at the center Friday evening, and they gave me a ride to a friends place in the village on their way back to town. They ended up inviting me out with them… I was still real tired from the late night before at Via Via and wasn't really feeling it at first but I took them up on it, wow I'm glad I did!
It was Prince (a PSU student), Diney, Amanda, and me. We started at a local bar serving Japanese fast food. The place was really cozy, and they were good people. After we went to a bigger bar / club kinda deal called Maasai Camp… that was fantastic! The atmosphere was excellent. They kinda had a rambling pavilion thing going on, with lots of different kinds of chilling areas, some pool tables, and a dance floor. You could even order a hookah… nice! I met a whoooole lot of people there, it was real nice. There was maybe an equal mix of european / african there, and i met a lot of the whiter people, and they were all from Tanzania, Kenya, Zimbabwe, or South Africa. After Maasai Camp we went out for chips maiai, a sort of french fries with egg fried over it omigosh they are so tastey. At the chip stand, more just an open coal fire in a bin on the side of a road in town, we met a real unique guy. His name was Arther but he called himself the king of England. He was 50-something, born in Sussex England, lived in Canada, around Europe, speaks a mother tongue, Kiswahili, English, French, German, maybe Spanish, and some other east african languages… sooo many languages. We chatted for maybe an hour while I ate a plate and a half of chips, and the whole time he would randomly say "Lets bomb a church", don't know what the deal there was. Real funny guy tho, he was quite a joker. I asked him what he does now… He said he just messes with tourists and lives real simply.
Saturday night we all went out again, plus Andrew, a friend from Kenya. The destination was a BBQ. They drove us into town after the Tamasha and Prince, Andrew, and I chilled at random bar while the girls were getting ready. Had some real good conversation, and I was able to ask a lot of questions I can't really ask my older friends around the center. After a while they came back and we headed for the BBQ. The house was amazing. These guys had a bunch of patios, a variety of sitting areas, some decks, a barside pool, and good views! It reminded me of beverly hills or something. I never figured out who owned it… the three siblings living there, or their parents. But regardless, it was incredible.
So, top to bottom… Diney, Prince, Amanda, and Andrew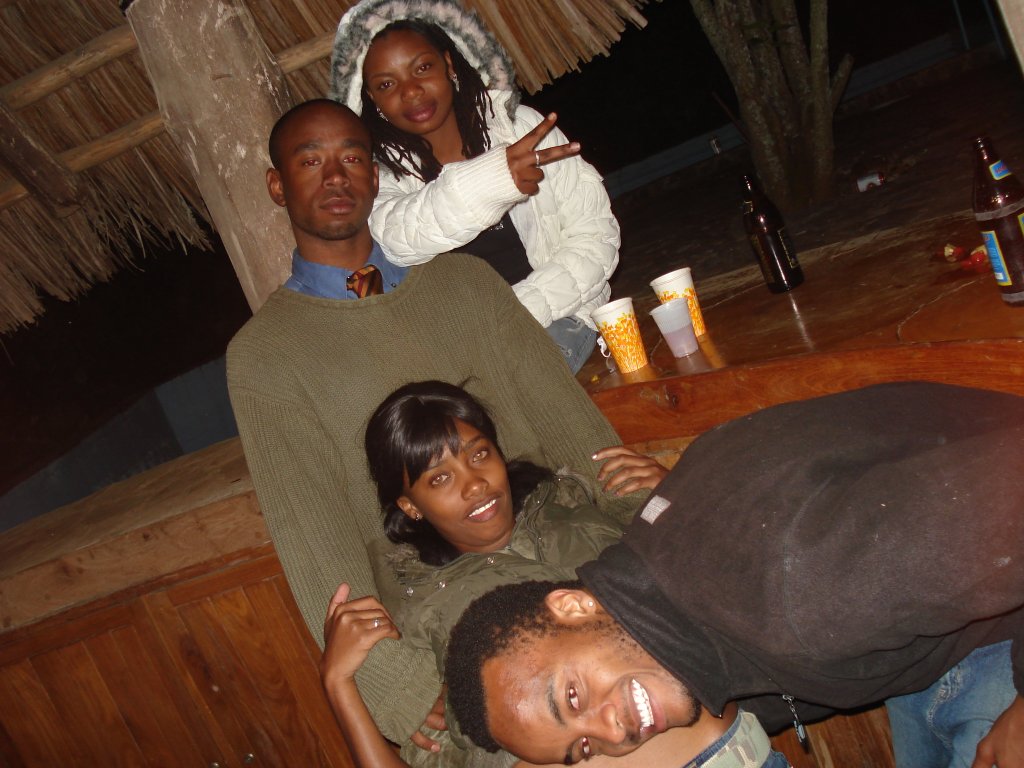 Here's one of Amanda, Prince, and I:
So the BBQ ended when the petrol ran out and the generator died. It didn't strike me at all at the time, I just wasn't surprised. But writing this entry it does! Heh. So we finished up there, went back to Maasai Camp, then to a dance club. Prince and I got driven back to Imbaseni by the owner of a giant chicken farm near the UAACC, a pretty wealthy man. He's a Muslim, his workers come from as far away as India and Sudan, and I understand you've got to be Muslim to work there — interesting!
So that was my wild weekend out on the town.
Here's this posts gem of a photo… Dickson, from Good Hope Orphanage:
So the past three days, I totaled 5 hours of sleep. I hope that isn't affecting my coherency! Anyway I'm gonna go fix that right now. Good night.