Marla finally cut us loose on Monday, and the students each went to their respective project sites! There are four main project sites. The first is in Monduli, with The Maasai Women's Development Organization, where the students are helping to start a library. The next is Bega Kwa Bega, an organization new since last year, centered on art, indigenous culture, and cultural exchange. The third is Meru Peak Primary School, where students are helping to teach classes from Geography to Mathematics. Last of course, is the UAACC where students are helping in various classes and some are just kind of doing their own thing.
Monday morning I walked with the Bega Kwa Bega and Meru Peak volunteers to Good Hope Orphanage, where they will be sleeping. Lunch I spent meeting a few random people around the center; there is always a unique mix of people at this place. I jumped into a computer class during the afternoon and met one student, Peter, who I'll probably be spending a bit of time with next week. In the evening I went to visit Jane and Monica's (from last year) father, but missed him. I ran into one random older gentleman, Peter Sulle, who wanted to talk for a while.
I met up with Peter Sulle Tuesday morning at his son's house for tea, and then a walk. We walked for maybe three or four hours, just talking. He is a 77 year old retired teacher from the Babati region. He has one daughter and five sons. After retiring, he gave everything he owned to his children, who now support him. We talked about everything from different crops and the local economy, to AIDS/HIV and the war in Iraq. He gave me a pretty good idea of how the school system works here, that was very interesting. During the course of the walk we visited many of his friends and family members. It all gave me a real good view of a cross-section of rural Tanzanian life. Most people are farmers, some have shops or workshops, others just rent rooms. I saw squatters. I saw single room mud farm houses, single room brick farm houses, single story one room apartments. I saw some homestead kinda living, with extended families farming one piece of land. I saw people with shops where they sold brew I watched them making. I saw a handful of multiple-story houses owned by locals, usually these people had a few shops, and maybe a woodworker, tailor, or teacher in the family. There was one man with a good bit of land, 12 acres, who will never be able to farm more than an acre or two of it because he cannot get the capital to get started. He needs about 100$. In four hours I saw one Tanzanian family with their own car.
Here is one spot Peter took me: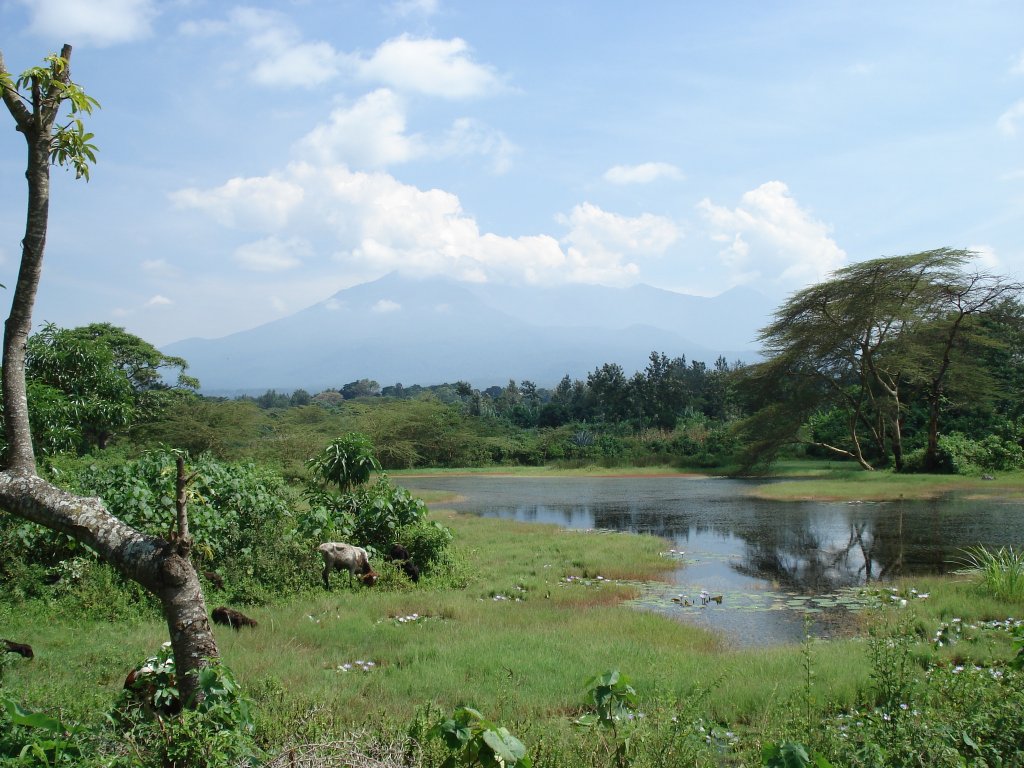 The rest of the afternoon I had free. Last year mostly my free time was spent chillin out. I haven't had a dull moment this year, I keep busy all the time right through any free time I think I might have. I've found myself in computer class, helping the Imbaseni Free Library catalog new donations, fixing random broken stuff around the center, or bouncing between BKB and the orphanage checking up on people.
I took three students, Jannelle, Brittany, and Nolan, to volunteer with Chawakua again on Wednesday. We got started a little earlier than usual and after the hour and a half transit to Arusha, had a good breakfast. The other volunteers at Chawakua left about 9ish so we missed them by half an hour, but they picked us up on their way back to the market. They'd picked up some furniture for Peter's new place, and food for house visits. Brittany, another volunteer Peter (not the one we moved to a new house, or the one that took me for a walk, or the one I'm helping in computer class… there so many Peters here), and I visited Neema and she shared her story with us. Her daughter (not infected!!) was a three year old named Rahima and she was terrified of Brittany and I. We asked why… shortly after Rahima was born, Neema got very sick and had to leave her with an orphanage. It took about two years before she was healthy again, and she was able to take her daughter back. Well the orphanage had mostly white / western volunteers… and Rahima thought we were going to take her away again

One of the volunteers, Judy, at Chawakua was from the states. I pitched to her an idea I've been tossing around about an online NGO networking utility, kinda modeled after a social network. There are plenty of utilities and organizations that help pair western volunteers with NGOs around the world. This site would instead be geared toward connecting NGOs with each other, allowing them first to find each other, and then giving them the tools to effectively collaborate. Soooo anyway, she lives in a house full of volunteers and one of them is doing pretty much exactly that. He's a computer science grad from France named Pierre. She hooked us up together, and we spent the afternoon with him. The brainstorming was real useful!
Thursday and today I spent in Imbaseni helping out wherever I was needed. In some of that time I just about finished a website for Bega Kwa Bega! I'll put up a link soon as it's wrapped up… Thursday night I went to Via Via, a bar in Arusha town, for some live music. Real good time!
I'll end with another shot of Meru.